Sun City Center's Best Friend Park is a unique 2 ­acre off leash park. It provides a private, country club setting for fitness, recreation, relaxation and socializing opportunities for the entire pack. Dogs can run off leash to their hearts' content in a safe, controlled environment. The park offers dogs a variety of amenities, including wading pools, tunnels and jumps. And even more important, the park gives dogs a chance to socialize with other dogs and people. As has been found, off leash exercise and play with other dogs will result in a healthier, happier and well-adjusted dog.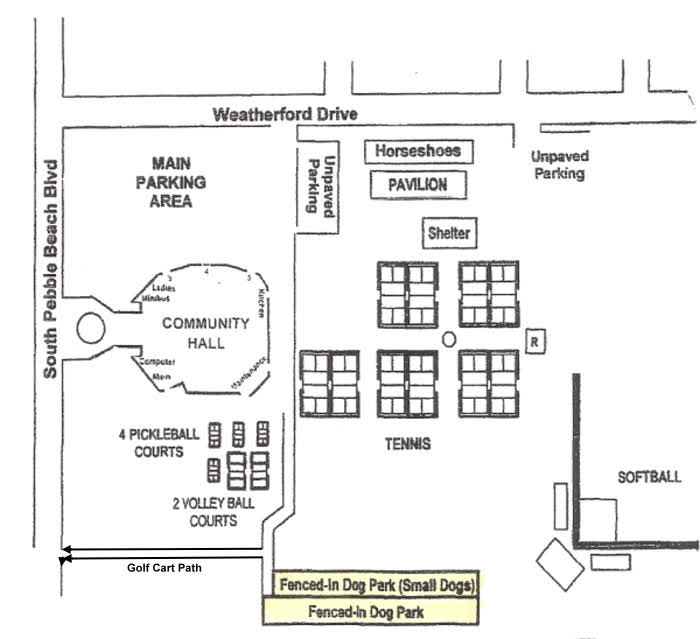 Best Friend Park was established in 2001 by a determined group of 20 SCC residents. With monies gotten from generous individual contributions, fundraisers and garage sales, plus the gracious donation of 3⁄4 acre of land from the SCC Community Association the park was born. Today we have grown to 2 acres and have close to 300 households and over 350 dogs as members.
Our lovely park is divided in half.....one for dogs under 29 pounds and the other for dogs over 29 pounds. Each park is secured with 6­ft chain link fences; large grassy fields for frisbee and balls games of catch; or for a quick game of dog tag; shady areas under the trees for those hot days; dog shower for muddy paws and bellies; wading pools; the tunnels and jumps; and park­ provided tennis balls. There is plenty of golf cart parking and limited ­automobile parking available for both parks. And we haven't forgotten about the pack leaders....large pavilions with overhead fans, chairs and and water fountains in both parks. And last but not least, there are waste bag stations throughout both parks along with conveniently located trash bins for deposits of the biodegradable blue bags.
For golf carts, we are located just south of The Community Center off South Pebble Beach behind the pickleball/volley ball courts. For cars we are off the road to the softball field south of the tennis courts.
"It's tough to stay married. My wife kisses the dog on the lips, yet she won't drink from my glass."—Rodney Dangerfield
2022 D.O.G. Board Members
President: Cheri Didday
Vice President: Melony Grazano
Treasurer: Rebecca Gerdy
Secretary: Robin Kitzmiller
Interim Recording Secretary: Robin Kitzmiller
Director-at-large: Richie Fredricks